How to decorate with antiques and keep your home contemporary
Decorating with antiques can give soul to your home and can offer the potential to make it unique- if you do it right. You don't have to have interiors filled with antiques to the brim. A few pieces here and there will add lots of character to your design. Antiques and vintage finds carry history, they are often beautifully made and crafted with striking details. They can also be highly personal too. How and where did you find it? Did you have to bargain hard to obtain it? Did you have to fight with your other half to get a piece accepted? Did you struggle fitting a piece through the door? So here are some tips and examples of where people have integrated highly successfully antiques in their homes.
The sitting room
Antiques give the sitting room an elegant lived in feel. Here are two that are modern in their own right but very different visually. The sitting room of the Georgian apartment featured here is very bright and colourful. Different hues of blue and pink are used throughout. The antique console table stands out but is put to great use as a drinks table.
-1-
This white sitting room in contrast works very well and although it is quite full of items, the unified colour scheme and the two antique chairs with barley twist legs combined with a circular table give elegance to the décor.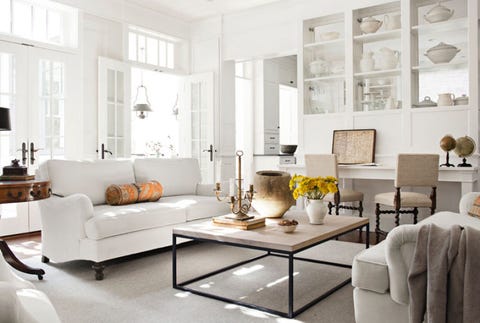 -2-
The bedroom
Here are two distinctive looks with clever use of antiques. This bright and airy bedroom in Sydney is very elegant and impeccable. The overall look is greatly helped by the addition of an antique lacquered Japanese screen which provides a focal point and the colour scheme for the accessories and furnishings in the room.
-3-
The bedroom here is still light and airy although the components of the décor are mostly antiques. An antique iron bed shares the space with an old clock and old mirror and table making it more traditional than the previous bedroom. However the space created around the antiques saves it from being stuffy.
The staircase
Don't forget the staircase it is an ideal place to be creative. The contemporary glass staircase in this home makes it very stark and bright. However the addition of an old terracotta pot and antique table in the corner makes this area lived in by breaking up the geometry of the staircase.
-5-
This staircase in contrast is very busy with steps stenciled to imitate tile design but is a great place to showcase old and antique pictures and photographs as well. Mix old and new frames for a great unusual look. The person climbing up the stairs will always have something interesting to look at!
-6-
The kitchen
The Kitchen is often the place we modernise first and integrate into a larger room with a dining area. For me its an ideal place to have a few antique or vintage finds especially if you are after a homely feel. The eclectic mix of items combined with an antique dining bench make this room really lived in without having too many items on show. The trick here is to use antiques and not overcrowd the design.
-7-
The kitchen is also a natural place to group together a collection of items. The kitchen here is a great example. See how the collection of antique metal trays on the wall complements the chrome fridge.
-8-
The bathroom
The bathroom is not a room traditionally associated with antiques. As the bathroom becomes more and more a place to relax, in addition to its more functional role, people are keener to make it an interesting space. This monochromatic "shabby chic" bathroom has an old distressed fireplace and a distressed vintage cabinet which echo each other and create a great focal point in the room.
-9-
This bathroom however is rather different by combining an antique dresser base with a modern basin to create a very distinctive vanity unit. This is a great example of how to modernise an antique.
-10-
For those of you who have ultra modern interiors I hope this inspires you to occasionally integrate something antique or with a bit of age in the decor. For those who love antiques I hope I have given you some ideas about how to keep things contemporary, personal and distinctive. I would love you to share your examples, thoughts or stories with my in the comments or on social media.
Credits:
main images N
atalia willmott
1.
Jessica Buckley Interiors
 2.
White interior
 3.
Jessica Buckley Interiors
4.
Shabby Chic Bedroom
by
South East Photographers
Bruce Hemming Photography
5.
Contemporary Staircase
by
South East Architects & Building Designers
AR Design Studio Ltd
6.
Pintrest
7.
Contemporary Dining Room
by
London Interior Designers & Decorators
APD Interiors
8.
dishfunctionaldesigns.blogspot.co.uk
9.
Shabby Chic Bathroom
by
South East Photographers
Bruce Hemming Photography
10.
bhg.com